A visit to Portsmouth's Historic Dockyard
May 18. 2022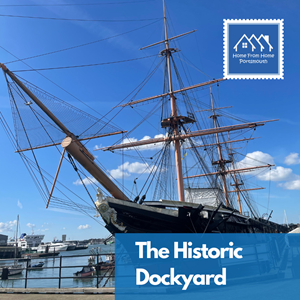 The Portsmouth Historic Dockyard is a great place to visit if you are staying in our holiday lets Southsea or holiday apartments Portsmouth. Portsmouth Historic Dockyard is an area of operation for the Royal Navy that is open to the public and contains several historic buildings and ships. There are many interesting things to do and places to explore in the Historic Dockyard.
Dockyard ships
Explore the legendary HMS Victory, Lord Nelson's flagship best known for its role in the battle of Trafalgar, with brilliant stories of his battles and life on board told during the guided tour it really brings the place to life. Another ship housed at the historic dockyard would be the Mary Rose, which can be viewed at the Mary Rose museum. Also available to be viewed is the HMS Warrior and HMS M.33. Or perhaps you want a better view of the ships, if so then the Harbour Tours that are available would be perfect for you as they provide unrivalled views of Britain's modern frigates, destroyers and helicopter carriers. 
Dockyard museums
There are a variety of museums to explore throughout the dockyard as well. Take a look at the national museum of the Royal Navy if you want a more in-depth look at the overarching history of the Navy. The HMS victory gallery provides a great view of the amazing story behind the oldest naval ship still in commission. Dockyard Apprentice retells 200 years of history from the eyes of the workers who constructed the dreadnought battleships of the 20th century.
Off-site there is also the Explosion Museum of Naval Firepower in Gosport, providing an up-close look at the history of Naval weaponry. The Royal Navy Submarine Museum, also located in Gosport, contains the only remaining WW2 submarine. Finally, the Night Hunters Coastal forces tell the little known story of the Royal Navy's heroic coastal forces.
Other attractions
But perhaps all this touring the history of these ancient ships isn't to your taste, if so there are still some other activities that may appeal to you greatly. Action Stations is an interactive indoor attraction located inside boathouse 6, it features a series of physical challenges and technological experiences perfect for the whole family. Do check the Historic Dockyard website for details to avoid disappointment. There is also a Laser Quest centre at the Historic Dockyard so you can enjoy an intense game of laser tag with dynamic lighting and heart-pounding music, sure to challenge even the most seasoned players.
Whatever you choose to visit we are sure you will have fun.