Dog-friendly rentals in Portsmouth and accommodation in Southsea
August 22. 2022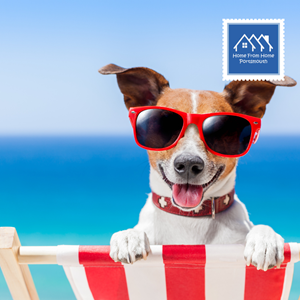 If you are coming to stay in one of our rentals in Portsmouth or Southsea, there are some amazing places to take your dog. Some of our rentals in Portsmouth and Southsea have dog-friendly gardens, so your pet is also welcome to come on holiday. 
Places to walk your dog near our dog-friendly rentals in Portsmouth and dog-friendly accommodation in Southsea.
Your pet will love wandering about a wide open space, chasing after balls or sticks. We are lucky to have a large seafront common for dog walks close by to our holiday lets in Portsmouth and Southsea. We also have some lovely parks such as Milton Park, Wimbledon Park and Victoria park, which are great for walks with your dog. There is even a secret dog walking park near the old Saint James hospital site as us for directions! A beach is also a  great place for dog walking Eastney beach all year round and Southsea Beach from September 30th to March 1st
Walking tours are also popular with visitors, and there is a wide array on offer here https://www.visitportsmouth.co.uk/things-to-do/tours-and-sightseeing/guided-tours-and-walks
Dog-friendly places to eat out near our accommodation in Southsea
In terms of places to have a meal, there are some lovely pet-friendly ones to choose from.
In Albert Road, a pub named 'Porters' welcomes four-legged guests along with the nearby 'Wine Vaults'. The bold forester has a lovely garden at the back, and the Jolly Sailor loves Dogs. On Cromwell Road, you may spot the 'Eastney Tavern', which allows pets, although only within certain sections of the pub. 'The Florence Arms' is a lovely pet-friendly pub. The Southsea Village by the shops in Central Southsea is very close to our rental properties and offers lovely meals and is dog friendly too. If you are looking for Brunch, Beckets is also dog friendly.
If a cafe is more the type of place, you are looking to relax with your dog, there are lots to choose from. On the seafront you have Southsea beach cafe, the coffee cup and Baffled coffee all of hihc are doggie friendly. In Southsea town centre you have the Southsea Coffee Co and Sisters Cafe and Bar as well. 
Dog-friendly accommodation in Southsea
Our lovely properties are well set up for dogs and their owners. As dog owners ourselves we know what you need to make it a great stay for everyone in the family!
You can find more ideas for pet-friendly travel in Portsmouth and Southsea here https://www.visitportsmouth.co.uk/visitor-information/dog-friendly-portsmouth
One of our four-legged guests even has her own Instagram account that we have featured on : )
 https://www.instagram.com/rubygoldennn/
These are our dog-friendly properties available for short-term or holiday lets in Southsea and Portsmouth.