Ideas for day trips from our stylish holiday lets Southsea
May 24. 2022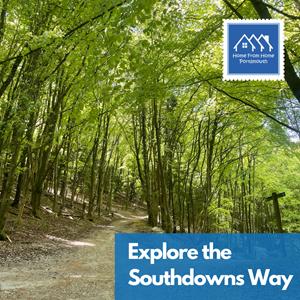 Our serviced apartments in Portsmouth and holiday lets Southsea happen to be in the perfect location for quick access to countless places that make for fantastic day trips with the family, so why not mix up your staycation with some day trips! Here are a few ideas for day trips from our stylish holiday lets Southsea
The Isle of Wight is the most obvious nearby location to visit, only being a short trip on a ferry, FastCat or hovercraft from Southsea. The hovercraft is quick and easy to access from Southsea seafront and just a short walk from our serviced apartments. Alternatively, you can take your car over on the car ferry which leaves from its base in old Portsmouth next to Gunwharf Quays, or the FastCat from The Hard train station next to Gunwharf Quays.
Things to do on The Isle of Wight 
The village of Godshill is a good spot for those who have a strong appreciation for history due to its 500-year-old thatched cottages, but it also has tea shops and a model village.
 'The Needles' are perhaps one of the most famous attractions on the Isle of Wight, located at Alum Bay also famous for its multi-coloured sand cliffs and stunning view of the Solent. Near the needles rocks is a lighthouse and a variety of other attractions including a 4D cinema, the IW sweet Manufactory, Alum Bay glass blowing, a small fair, 'Water Walkerz', a 'Jurassic Golf' course, and a wide variety of shops. An entire book could be written about the many different things to do on the Isle of Wight so we would highly recommend visiting the official Isle of Wight tourism website for more information. We also have two beautiful cottages there if you want to stay for longer. https://www.homefromhomeiow.com/
West Wittering Beach
West Wittering is another great choice for a day trip and is a short drive away from our holiday lets Southsea.
West Wittering is its stunning sandy beach, with a wide expanse of golden sand. It really is a lovely day out. A variety of watersports can be done here, paddle boarding and surfing can be done by anyone, open water swimming is also an option so long as various safety measures are followed such as wearing a proper wetsuit and avoiding the red-flag area. If you have a membership with 2xs, windsurfing, kitesurfing, and wingfoiling are also permitted. It is important to note that the car parks near the beach are open from around 6.30 am to 8 pm and a space can be booked in advance. For more information be sure to visit the West Wittering Beach website.
City tours Chichester and Winchester
But what if visiting the beach or areas around the sea isn't an appealing idea to you? Don't worry as there are many inland locations that are worth visiting as well, such as Chichester. Chichester is a short drive or train journey from our holiday accommodation in Portsmouth and Southsea. A cathedral city in West Sussex with a variety of places to visit, such as the Chichester cathedral which has been the centre of community life for more than 900 years and is the site of the shrine of Saint Richard. There are also the ancient Roman walls surrounding the city which often have guided walks around them, for only  £3 per person. 
If history isn't your thing there are a large variety of shops to visit and even a famous theatre opened in 1962 which still has various productions to this day. Last time we went we bumped into Martin Clunes and several Holby City Cast members! Visit the Chichester Festival Theatre website for more information. 
Similar to Chichester, Winchester is also famous for its cathedral with its 17th century Morley library, but that's not to say it is the only reason to visit there. It's home to the remains of Winchester castle where King Arthur's round table would have been, alongside a variety of other interesting historical locations. Again lovely shops to mooch around and plenty of places for lunch.
Other great day trips from our holiday lets in Southsea
Also close to our stylish holiday apartment in Southsea are Marwell Zoo which is great for a family day out as well as the Beaulieu National Motor Museum, the infamous Peppa Pig World at Paulton's Park and the Watercress line. All are easy drives from our holiday lets in Portsmouth and Southsea.
For the nature lovers
The South Downs Way is one of 16 national trails in England and Wales and is perfect for those of you who like spending your day enjoying a relaxing tour of the English countryside. There are some stunning walks along the Southdowns way and you can pick and choose to walk small segments of it as far as you like. With plenty of beautiful country pubs en route to relax in on the way back to your holiday accommodation in Southsea it really is a win-win.
Whatever you do we hope you have a wonderful stay in our fully equipped Holiday Lets Southsea.
Emma and Jane