Holiday lets Southsea: Things to do in July in Portsmouth and Southsea
May 18. 2022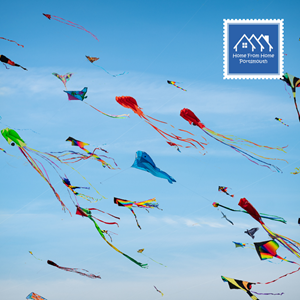 If you are staying in our holiday lets Southsea we have lots for you to do this July. Southsea is a great place for a holiday and has many upcoming events for you to enjoy, here are some of the most exciting upcoming events happening this July.
For the Sports Stars and the charity fundraisers!
Starting on the second of July is the Portsmouth Pretty Muddy race, set up by the charity organisation Cancer Research UK, which is a muddy obstacle course with a special version for kids so even they can participate. Tickets cost £19.99 for adults and £10.00 for children. There is also a second Pretty Muddy race set for the 23rd of July. Another large charity event led by Cancer Research UK is the Portsmouth Race for Life, set for the 3rd of July.
On the 6th of July, the Southsea common will host a festival showcasing community sports to coincide with Birmingham 2022  Queen's Baton Relay arriving in the city on this day. The event is free and lasts from 5 pm - 7 pm, the baton will arrive by hovercraft around 5.30. Be sure to visit the website for more information if you are interested. https://www.birmingham2022.com/queens-baton-relay
For the Foodies
Perhaps the strenuous exercise these activities require is too much for you, don't worry as there are many other more relaxing events in Southsea this July all close to our holiday lets Southsea. One such event is the Southsea Food Festival from 10 am - 5 pm on the 16th and 17th of July. With over 40 food and drink stalls, whether you visit to sample food, buy ingredients to use yourself, or even just to listen to the live music from local bands, there is much to see and do on this day. One recurring event every month necessary to visit for any food lovers is the Hampshire Farmers Market, it will be on the 17th of July and contain delicious food and drink from producers across Hampshire. For a full list of dates, be sure to visit their official website. There is also a tour of the Portsmouth  distillery on the 8th, https://theportsmouthdistillery.com/events/distillery-tour-8th-of-july-1500-2/
Family Fun at the Southsea Kite Festival 
But if you want an event certain to be enjoyed by the whole family, look no further than the International Kite Festival on the 30th and 31st from 10 am to 5 pm. The sky above the Southsea Common will be filled with countless kites of all shapes and sizes, many being flown by internationally renowned fliers, making it a magical addition to a fun day out with the family. 
Music Lovers
If you're a fan of music there are countless musical events happening in Southsea in the month of July, all close to our lovely holiday lets.
The Black Dyke Band will be performing in King's Theatre on the 2nd, the Pompey Punk N Roll Summer open-air party on the 3rd. Also coming up in August will be the return of the fabulous Victorious festival! We only have a few holiday apartments left for the Victorious weekender so do book quickly to avoid disappointment.
Whatever you plan to do during your stay we hope you have a lovely time and enjoy our lovely holiday accommodation at Home from Home Portsmouth.
Best wishes
Jane and Emma