Holiday lettings Southsea: Things to do in June in Portsmouth and Southsea
May 16. 2022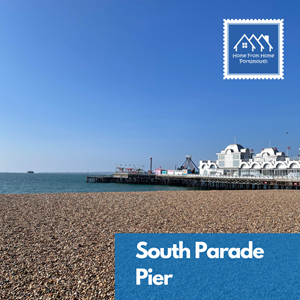 If you are staying in our lovely holiday lettings Southsea or Portsmouth this June there is a lot going on!
As well as all the wonderful Southsea attractions such as The Historic Dockyard and the Spinnaker Tower, there are lots of events happening this June. If you'd like to rent a holiday apartment in Portsmouth or Southsea do get in touch!
Here are a few events in Portsmouth and Southsea you might like this June!
One of the many memorable locations close to our holiday lets Southsea is the South Parade Pier which is located close to our serviced apartments Portsmouth and is a lovely highlight on a sunny day. Alongside the more permanent attractions on South Parade Pier such as the Deep Blue for fish and chips and of course, the Amusement Arcades, the Kidz Island funfair on the pier is open all summer and is perfect for families to visit and have fun on the small array of attractions. Our family love the caterpillar rollercoaster and the pirate ship but younger children will like the mini quad bikes and ride-on carousel complete with fire engines and motorbikes.
On 2nd June - Popkidz will be at The Kidz Island funfair from 11 am to 2 pm with mascots, dances, live performances and much more! Book tickets here:PopKids Also on the 2nd of June is the Platinum Jubilee Pier Party from 11.30 am to 2 pm. It comes with party food, a platinum cake, party games, face painting, a bouncy castle, and live performances hosted by characters your kids are sure to love such as Elsa, Spiderman, Iron Man, Buzz, Woody, and Minnie Mouse! You can book your tickets here: South Parade Pier.


More Jubilee Events near our Holiday lets in Portsmouth and Southsea 
Southsea Castle will be lit up on Thursday 2 June to mark the start of the celebratory weekend. If you are staying in our holiday lets Southsea or services apartments in Portsmouth during the Jubilee weekend then there is a lot going on. Guests at our serviced holiday lets Southsea enjoy discounts at The delightful Courtyard cafe within the walls of Southsea Castle. 
 There will be free Jubilee Big Lunch events on Sunday 5 June on Southsea Common and Cosham's King George V playing fields. Join in the fun from 10 am to 5 pm and enjoy live bandstand music and community performances. Refreshments will be available, or you can bring your own picnic.
Other Jubilee celebrations include a Beer Festival at The Old Customs House in Gunwharf Quays. 
For foodies
Also of note is the Hampshire Farmers Market, which comes to Palmerston Road, Southsea. Palmerston Road is a short walk from our stylish comfortable holiday lets in Southsea. The Hampshire Farmer's Market takes place on the third Sunday of every month this will be the 19th of June from 10.00 - 14.00. They are one of the largest farmer's market organisations in the UK and aim to bring the best quality in-season local produce to the people of Hampshire. For more information visit their official website: Hampshire Framers Market. Our holiday accommodation guests in Portsmouth and Southsea also receive VIP discount codes to use at some of our favourite restaurants in and around the seafront such as The Briny which has a wonderful sea view.
For theatre lovers
Rock of all ages in on 15-18th June at the super Kings Theatre on Albert Road in Southsea. Again the King's Theatre is a short walk from our holiday lets Southsea.
Music lovers 
Moving onto music events happening in Southsea.
There will be a Tina Turner night and an Elvis night both at the King's Theatre in Southsea close to our serviced apartments.
The American rock band Waterparks will be performing on the 26th of June at 7 pm in Wedgewood Rooms on Albert Road, Southsea close to our holiday lettings Southsea. Tickets can be bought here: https://www.seetickets.com/event/waterparks/wedgewood-rooms/2289537. On the 19th of June EXTC will be performing at the same location. 
A final musical event worth mentioning is the 'It's Not The Punk Fest By The Sea' festival happening from the 10th to the 12th of June. It features live music from: Menace, The Satellite, Charred Hearts, The Glorias, Monkish, Nights OF Treason, Jon Lamb, Tara Rez, The Duel, Acid Attack, Flying Alexanders, Guitar Gangster, Assassination Bureau, Chris Mc Dougall, 4 Minute Warning Acoustic, Die IV, Second Hand Citizens, Janus stark, Kid klumsy, Absolute Demolition, Red Anger, Screaming Dead, Mid-Age Rampage,  and many more!


Charity Events
If you want to help raise money for good causes whilst you are staying in our accommodation in Portsmouth there are a few charity events on June's calendar which would be enjoyable. On the 11th of June, there is the 10-year anniversary ball for Teach Sri Lanka, a project to promote and enable the education of all Sri Lankan children. 2022 marks a decade's worth of fundraising for the group whose celebration will contain food, drink, and dancing, plus entertainment from the live DJ! The price is £40 per ticket. 
On the 18th the Rowans Hospice will once again host its unique nighttime walk starting on Castle Field at 8 PM. It is an evening to come together and remember the lives of loved ones who are no longer with us. You can join as an individual or as a group of friends aged 11 and up, the registration fee is £20. Join here on the Rowan's website.
Whatever you plan to do during your stay we hope you have a lovely time and enjoy our lovely homes from home.
Best wishes
Jane and Emma