National Trust Locations close to Portsmouth and Southsea
June 16. 2022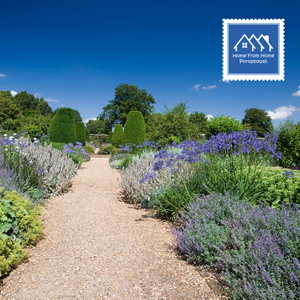 The National Trust has some lovely heritage sites near to our holiday accommodation in Southsea and Portsmouth.
The National Trust is a charity organisation focused on the conservation of natural and historical heritage. If you are a National Trust Member, you can gain free entry to over 500 places in their care, including some of these lovely locations nearby.
Uppark
Perched on a high vantage point on the South Downs ridge stands a tranquil 17th-century house set within intimate gardens and woodland, known commonly as Uppark house. The lush wide expanse of gardens are filled with a large variety of different plants and flowers, from bluebells to pink magnolia, perfect for a relaxing stroll during summer. 
The house is sometimes also open for visitors with its lavish Georgian interior, a contrast to the servant's quarters downstairs; it also contains one of the best examples of an 18th-century doll's house in the country. It is important to note that due to its high elevation, it can lead to it closing on short notice, and the mansion is open on Saturdays and Sundays only. https://www.nationaltrust.org.uk/uppark-house-and-garden
Hinton Ampner
Hinton Ampner is an elegant country manor and tranquil garden rebuilt after a catastrophic fire in the 1960s. Besides the usual options to visit the house and nearby gardens, there is also a cafe and shop, which are a perfect place to relax and get a bite to eat after a long day of walking. https://www.nationaltrust.org.uk/hinton-ampner
South Harting
Another good choice of location to visit would be South Harting and the nearby Harting Down. There are a very large variety of things to do in and around the location of South Harting, one of which is visiting Harting Down, one of the largest areas of ancient chalk downland cared for by the National Trust. Besides admiring the fauna and flora, there are some things a family could enjoy together such as filling in one of the animal spotter sheets or any of the other activities that can be found online here: https://www.nationaltrust.org.uk/lists/family-activities-for-outdoor-adventures
St Helens Duver
If you are a bit of a history buff, you might also want to visit the Isle of Wight, then St Helens Duver might be a good choice to visit. With a short but varied coastal walk and the rich history of smuggling in the area or just their old church, all are perfect for a short but sweet visit if you happen to be nearby. https://www.nationaltrust.org.uk/st-helens-duver
Mottisfont

The house at Mottisfont is an 18th-century building transformed into a neo-classical home in the 1930s which contains a permanent 20th-century art collection and gallery. Make sure to find the nearby refreshments from the Coach House Cafe and Kitchen Garden, open every day from 10 am to 5 pm with both indoor and outdoor seating. Nearby is Mottisfont Abbey, an internationally famous rose garden usually at its best in June with over 500 varieties of old-fashioned roses which can be breathtaking when in full bloom. Besides this, the Trust looks after over 1600 acres of the surrounding countryside, including many other reserves and beautiful natural locations perfect for a short day trip or a longer visit for anyone who loves nature or simply wants some time to relax. https://www.nationaltrust.org.uk/mottisfont
Don't forget to check out our lovely serviced apartments in Portsmouth and Southsea for your next holiday.