The advantages of serviced apartments in Portsmouth
January 16. 2023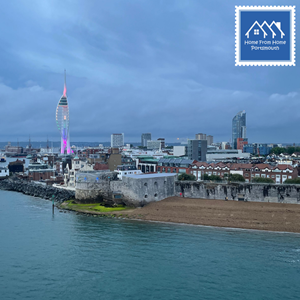 A serviced apartment has so many advantages over staying in a hotel. Here we have listed the advantages of staying in our serviced apartments in Portsmouth.
Your own space
Our serviced apartments in Portsmouth come with plenty of room - no more living out of a suitcase in one hotel room!  We have kitchens, lounges and bedrooms that are spacious and stylish. You will be able to relax and spread out during your stay.
Entertainment on hand
All of our serviced apartments have smart TVs to stream your favourite shows. We also provide comfy sofas, so no more balancing on a hotel bed wishing the remote control worked better. We also have plenty of books, toys and games if you fancy getting back to basics and giving technology a miss on your holiday.
Fully equipped kitchens
While it is lovely to eat out, it is also nice to be able to cook when you feel like a night in. All of our serviced apartments in Portsmouth have kitchens that are fully equipped with everything you need to make delicious meals. The dining tables are nice and big for family meals too!
Clean Laundry 
No need to go home to a suitcase full of dirty laundry, you can stay on top of it with our washing machines whilst you are away. All our fluffy towels, sheets and bed linens are provided in your rental, so no need to bring any with you.
Happy Children.
As a Mum of three, I know how important it can be for everyone to have their own space when away from home. Our serviced apartments in Portsmouth and Southsea come with books, toys and games for children and desk space for older teens. Having separate bedrooms and lounge areas means you can catch some downtime when you need it. 
Travelling with a baby?
Travel cots and highchairs/ booster cushions are provided, and we have baby baths if you need one. Microwaves are also useful and provided in each apartment. Just let us know what you need for your little one's stay.
Workspace and wifi
If you need to be away for work or work whilst you are away, we have workspaces that are set up for you to work. Whether it's a quick email or a week's worth of work, you will be comfortable while you stay. No more silly hotel charges for wifi - our fast wifi is included in your rental.
Privacy
No need to walk through busy hotel lobbies each time you go in and out. You will have your own front door. This is a bonus for travelling with children as you won't have to worry about shared spaces.
Outdoor space
Some of our apartments have private balconies or gardens. Just ask us if you'd like outdoor space and we will try to accommodate your needs.
Parking spaces
Parking is at a premium in Portsmouth, so most of our apartments have their own parking spaces. Being able to park right outside your apartment is a massive bonus so just ask us to help you choose an apartment with private parking.
Our Home from Home serviced apartments in Portsmouth are called just that for a reason. You will be comfortable and at ease for your holiday or work trip when you stay with us.