Things to do on The Isle of Wight
May 18. 2022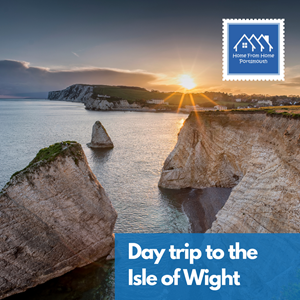 Situated just off the south coast of England, directly below Southampton and Portsmouth, lies the Isle of Wight. Just a short hovercraft or ferry ride from our stylish holiday accommodation in Southsea it is a popular tourist destination. An easy day trip from our rental flats in Portsmouth and Southsea there are countless exciting activities to do and locations to visit on this small island.
One of the most famous natural locations to visit is The Needles, located in Alum Bay on the west coast. Besides being a striking natural formation and having a lighthouse, there are many fun activities to do surrounding it from a 4D cinema to a 'Jurassic Golf' course and even a small fair, alongside a wide array of shops. 
The Isle of Wight for Animal Lovers
If you like animals there are a few great locations for you to visit here, Monkey Haven the Primate rescue centre is filled with monkeys, many having been rescued from tragic situations, and also contains reptiles and some species of owls. Also worth visiting is the donkey sanctuary in Newport and the Wildheart Animal Sanctuary in Sandown. Especially worthy of note is the award-winning Tapnell farm park which has a water obstacle course and even comes with archery and axe throwing activities.
Family theme parks on the Isle of Wight
Theme parks are a great place to spend your day if you want a bit more excitement throughout your trip, so long as it isn't too busy that is. The Isle of Wight has a few great options, one of which comes in the form of Blackgang Chine, the UK's oldest theme park! With a wide variety of different rides and attractions, alongside 'Lands of Imagination' like Cowboy Town or Fairy Land, perfect for young children to have fun playing make-believe. Or maybe you'd rather visit the Sandham gardens with its fun beachside attractions. 
For the history buffs
If history is something that appeals to you, you might want to visit the village of Godshill due to its 500-year-old thatched cottages and the Mediaeval church, it also has tea shops and a delightful model village if you want a break from wandering about. The Bembridge Fort and Downs are also of note due to the unrestored Victorian fort set upon the dramatic chalk cliff with a wide coastal view, the fort itself being open for guided tours. The Isle of Wight Steam Railway is a great way to get from one location to another while still immersing yourself in this journey through history. Within the railway shop there is even a small artefacts gallery for visitors to enjoy.
Nature Lovers
Or perhaps a relaxing walk through nature is more your cup of tea, if so then a tour of the Shanklin Chine would appeal to you greatly. With a sense of mystical beauty, its luscious greenery and waterfall combined with the colourful lights scattered throughout are sure to be a treat. Nearby is the Tea Garden and Antiques Centre perfect for a break after your walk through the island's oldest tourist attraction. A long walk around the coastal footpaths is also a great pick for anyone wanting to explore the coastline.
Whether you want to have an exciting trip to the zoo with your family, explore the great outdoors or have a go at some stargazing, there is a little something for everyone at the Isle of Wight.
If you'd like a longer holiday on the Island we also have two beautiful cottages to rent on the Isle of Wight.