Spacious 2 bed 1st floor apartment close to the sea with on-site parking. Situated in an Edwardian building on a beautiful street just off South Parade with large houses set back from the road.
This large apartment offers a flexible king size or twin bedroom, a family room with a double and 2 single beds.
There is a large living area with large sofa and sofa bed (that can sleep 2 additional guests) a table and chairs and recently fitted kitchen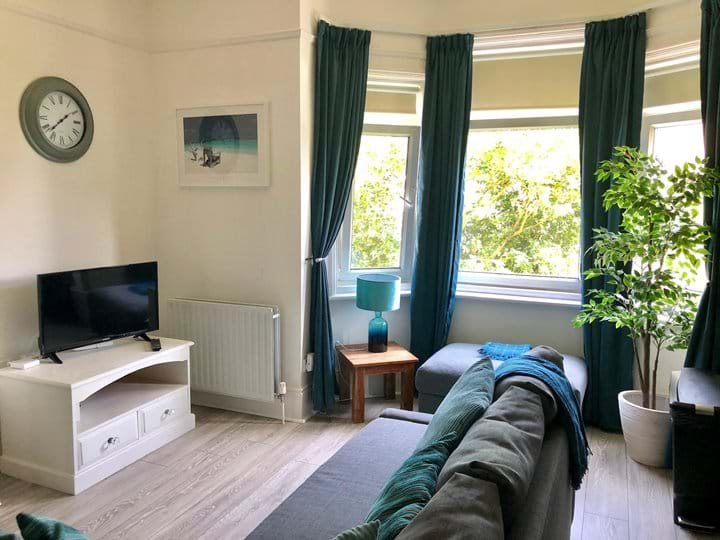 Rates shown are for up to 4 people
Quoted Currency: British £
Convert Currency:
Rental rates are for the entire property.
| Description | From | To | Weekly | Monthly | Week Night | Weekend Night | Minimum Stay |
| --- | --- | --- | --- | --- | --- | --- | --- |
| Summer | 22 May 20 | 10 Sep 20 | - | - | £120 | £150 | 2 Nights |
| Goodwood | 10 Sep 20 | 14 Sep 20 | - | - | £150 | £150 | 3 Nights |
| Autumn | 14 Sep 20 | 16 Oct 20 | - | - | £110 | £150 | 2 Nights |
| GSR | 16 Oct 20 | 19 Oct 20 | - | - | £150 | £150 | 3 Nights |
| Winter | 19 Oct 20 | 18 Dec 20 | £500 | £2000 | £100 | £125 | 2 Nights |
| Christmas | 18 Dec 20 | 03 Jan 21 | - | - | £110 | £110 | 3 Nights |
| Winter | 03 Jan 21 | 26 Mar 21 | £500 | £2000 | £90 | £125 | 2 Nights |
| Easter | 26 Mar 21 | 18 Apr 21 | - | - | £110 | £110 | 3 Nights |
| Spring | 18 Apr 21 | 21 May 21 | - | - | £100 | £150 | 2 Nights |
| Early Summer | 21 May 21 | 07 Jul 21 | - | - | £110 | £150 | 2 Nights |
| Goodwood? | 07 Jul 21 | 11 Jul 21 | - | - | £180 | £180 | 4 Nights |
| Summer | 11 Jul 21 | 27 Aug 21 | - | - | £120 | £150 | 2 Nights |
| Victorious | 27 Aug 21 | 30 Aug 21 | - | - | £350 | £350 | 3 Nights |
| Autumn | 30 Aug 21 | 31 Oct 21 | - | - | £100 | £150 | 2 Nights |
| Winter | 31 Oct 21 | 17 Dec 21 | £500 | £2000 | £90 | £150 | 2 Nights |
| Christmas | 17 Dec 21 | 02 Jan 22 | - | - | £110 | £110 | 3 Nights |
| Winter | 02 Jan 22 | 25 Mar 22 | £500 | £2000 | £90 | £125 | 2 Nights |
A £75 service fee is added to each booking
Additional Guests can be added for £15pp per night
A 25% non refundable deposit is due to secure the booking and the balance is payable 8 weeks prior to arrival
A £200 refundable damage deposit MAY be requested prior to arrival for larger groups, this will be refunded following departure
We also accept payments in EUR at current exchange rates, without fees, Please mention this on your enquiry