Where to go for Cocktails in Southsea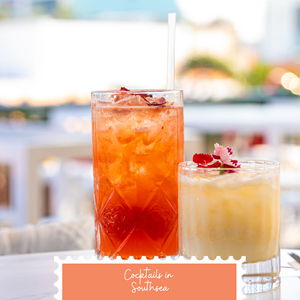 If you are staying in our serviced apartments in Southsea and fancy a cheeky night out, there are some fantastic little-known places in Portsmouth for cocktails.
Close to our Apartment, 'Luxury on the beach' is 'The Briny' on Southsea seafront, which offers a wide selection of cocktails served with a fabulous sea view! Our guests also get a 10% discount here by saying they are staying with us. 
Likewise, further down the promenade by the Hovercraft, 'The Beach Club' serves cocktails with a sea view.
Also near our apartment at Queensgate, which has a sea view across Southsea Common, is 
The Courtyard at Southsea Castle is open late on Thursdays, Fridays and Saturdays and serves excellent cocktails.
Our guests also get a 10% discount here by saying they are staying with us.
If you are staying in our apartment "In the Heart of Southsea" on Lennox road South, it is just a short stroll to Sant Yago's, which has a cocktail bar in the basement and a delicious restaurant upstairs.
For a quirky experience, 'Broken and Repaired' is a fab little speakeasy-type bar hidden behind the facade of an electrical repair shop on Albert Road in Southsea. Those in the know realise you don't have to be a member if you book your table online. You will need to pay a small deposit online, but it's worth it for the atmosphere once you get inside. 
Also on Albert Road, we have 'Gin and Olive', a bar and restaurant that not only offers food using locally sourced sustainable produce wherever possible but also has an enormous library of drink options viewable on their website, including champagne and a large variety of different high-quality cocktails and of course, hundreds of Gin. 

Finally, close to our apartment at Harbour View is Gunwharf Quays Shopping Centre, with plenty of bars and restaurants to choose from. For cocktails, we like The Alchemist, which is lots of fun with science experiment-type cocktails on the go and plenty of space to meet friends for dinner and drinks.